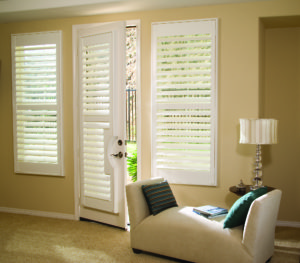 When having plantation shutters installed, you'll have to choose between wood shutters and PVC shutters. Both of these options come with their own set of benefits and drawbacks, so it's important to do some research before investing in plantation shutters. In this article, we'll dive into the differences between the two so that you can determine which option is the right fit for your needs.
PVC Shutters
PVC shutters are made from a composite material that is highly durable. Unlike wood shutters, PVC shutters resist moisture intrusion and are far less susceptible to mold and mildew growth. This means that they are likely to last longer than their wooden counterparts and are also easier to clean. Plus, PVC shutters tend to be more affordable than wood shutters, making them a good choice for homeowners who are on a budget.
Wood Shutters
Wood shutters are the more traditional option and are known for their high-end look and luxurious beauty. Wood shutters also offer greater versatility than PVC shutters, which come in limited colors, as they can be stained, painted, or otherwise finished. However, wood is also much more difficult to care for than PVC and is likely to warp and deteriorate with age. Because of this, wooden plantation shutters require more frequent upkeep than PVC shutters do. Wood shutters are also more expensive than PVC shutters, which is an important factor to take into consideration.
It All Comes Down to Preference
At the end of the day, the debate between wood and PVC shutters boils down to personal preference, and the best plantation shutters for you will depend on your needs, taste, and budget. However, discussing your options with an expert and viewing displays in-person can be extremely helpful when deciding between the two. At US Verticals, we offer premium wood and PVC shutters and have displays of both options at our state-of-the-art showroom. We would love to show you around and help you determine which type of plantation shutter is right for you. Or, if you'd rather shop at home, we can schedule an in-home consultation and bring samples right to you. Reach out to us today to get started!