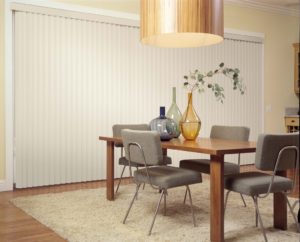 No matter how clean you keep your home, dust is inevitable, and it's bound to collect on your window treatments. Pulling out the duster every other day to keep your window treatments looking their best isn't realistic for most homeowners, so it's important to choose a covering that repels dust and is easy to clean. Thankfully, there are many types of low-maintenance window treatments on the market that offer exceptional durability and require very little upkeep.
The Best Low-Maintenance Window Treatments
When looking for low-maintenance window treatments, you'll want to choose an option that's not only easy to clean but that also repels dust, as this will help the coverings stay clean for longer. Some of the best options include:
Vertical Blinds
Because they hang vertically, these blinds give dust and dirt very few places to settle in. Vertical blinds are also exceptionally easy to clean—simply run a damp cloth over each slat, moving from the top down.
Roller Shades
Roller shades are made from one continuous piece of fabric, which creates a flat surface that doesn't have any pleats or folds for dust to accumulate in. Plus, most high-quality roller shades are made from durable materials that can withstand the force of a vacuum, allowing for quick and easy cleaning.
Faux-Wood Shutters
Unlike natural wood shutters that have porous surfaces, faux-wood shutters are made from composite materials that create a nice smooth surface. This allows you to easily wipe dust and grime from the slats without having to worry about damaging the material or digging into nooks and crannies.
Cordless Window Coverings
Cords and strings can get dingy fast with so many hands pulling on them to raise and lower the shades. Cordless and motorized window coverings eliminate the need for strings, making them a great option for homeowners who don't want extra pieces to clean. These low-maintenance window treatments are also a safer choice for households with pets and young children.
Consult an Expert
US Verticals offers a wide selection of highly durable and easy-to-clean window coverings and would love to help you find the perfect fit for your home. Contact us today to learn more about our low-maintenance window treatments. We offer free consultations and would be happy to schedule a time to discuss your project in-depth.