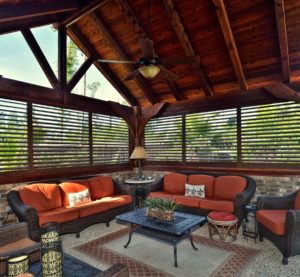 Plantation shutters are an extremely popular type of window treatment, and for good reason, too. These window coverings are considered a permanent fixture—a high-quality plantation shutter can be expected to last as long as the home it's installed in. Because of this, having plantation shutters installed could increase the value of your property. But that isn't the only thing there is to love about these window treatments. Plantation shutters offer many benefits in addition to their lasting value, including:
Energy Efficiency
Plantation shutters are installed directly over your windows, which allows them to act as an insulator. This is one of the main benefits of plantation shutters, as it will help keep your home's interior at a more comfortable temperature all year long. As a result, your HVAC system won't have to work as hard to heat and cool your home, which could lead to energy savings.
Child Safety
Child safety is also one of the greatest benefits of plantation shutters. These window coverings do not have any dangling cords or strings, which can help you rest a little easier knowing there's one less thing for you to worry about when it comes to your children's safety. Plus, their cordless design makes for a sleek appearance that will help your home feel clutter-free.
Light Control
Because plantation shutters are installed right up against the window, there aren't any gaps around the side for light to sneak through when the shutters are closed—a common problem with other types of window treatments. The slats can also be tilted to precise angles, so you can allow some light into your home while still maintaining a high level of privacy.
View-Through
One of the downsides of window coverings is that they block your view when closed, which can be disheartening for homeowners who love to gaze out their windows. Plantation shutters offer a great solution as they can be tilted at an angle to create privacy while still allowing for excellent view-through.
Get a Free Estimate for Plantation Shutters
If you want to enjoy the many benefits of plantation shutters at your home, contact US Verticals today. We are a highly experienced company that's been installing premium window treatments for decades, and we'd love to help you find the perfect shutters for your home. We offer free consultations and estimates and can schedule an appointment either at your home or at our beautiful showroom.