I know you'll find it hard to believe, that a Vertical Blind Manufacturer could answer this question without circling back and saying that Vertical Blinds are the best option for Sliding Glass Doors, but that's not what I'm here to do! I'm here to give you all of the options that you can choose for a Window Treatment on your Patio Doors other than Vertical Blinds.
So, you've decided that Vertical Blinds are no longer the right choice for your Sliding Patio Doors, but what other options do you have? Let's go over them!

Sliding Panels have a low profile appeal to them. They fit perfectly with both Contemporary and Tropical Decor. Panel Tracks can be fitted with any of our 500+ Roller Shade Fabrics or any of our Natural Weave Material. They work very well on Sliding Doors because of the simplicity of the product. The track has very few moving components, which provides a nice element of durability in high traffic situations like those found in Rental Properties and Hotel Rooms.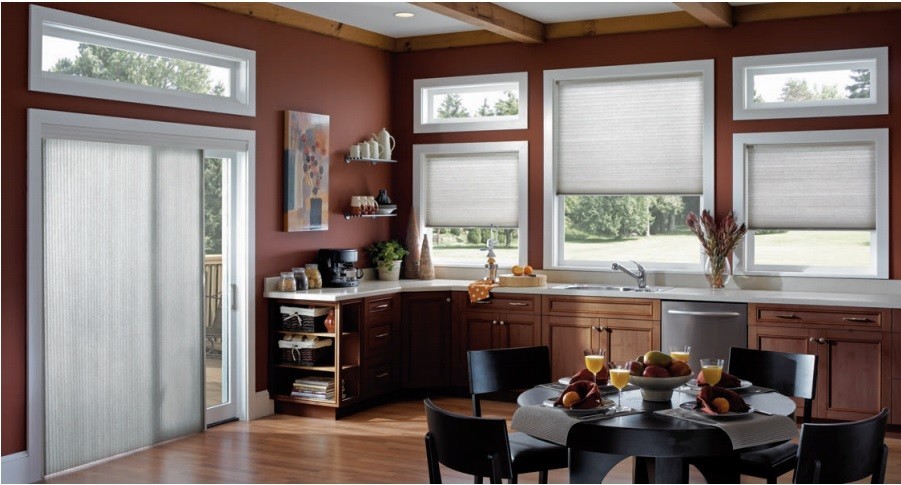 Honeycomb Shades have a long history of being one of the most energy efficient, and also one of the most beautiful window treatments on the market. It should be of no surprise then, that there would be a demand for honeycomb shades that could be used on a patio door. Now, You can have the beautiful look of a cellular shade, in both light filtering and room darkening, for your sliding glass doors. The shades traverse side to side to allow you to go in and out of your door with ease.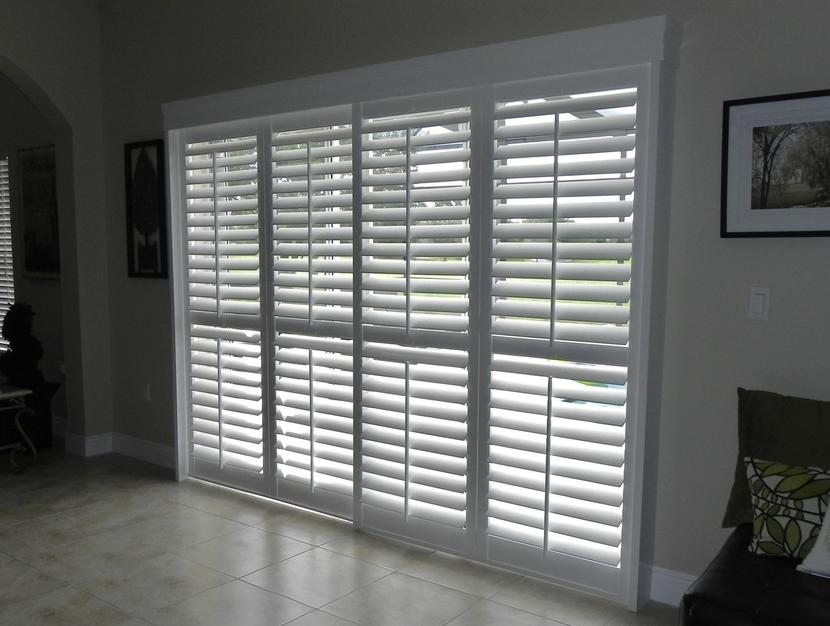 Very few treatments create the same "Wow" factor as Plantation Shutters on a Sliding Door. Whether a Bi-Fold Shutter or Sliding Shutter Panels, Plantation Shutters are an excellent choice for Patio Doors, because of their durability and ease of use. Not to mention, they will easily become the focal point of any room's decor!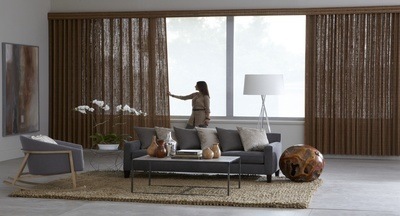 Averte Natural Fold Shades
This Horizon Shades product is a wonderful alternative to a vertical blind. It combines both the softness of a flowing drapery, but the modern rustic charm of our Natural Weave materials. They are available in almost all of our bamboo and grasscloth fabrics.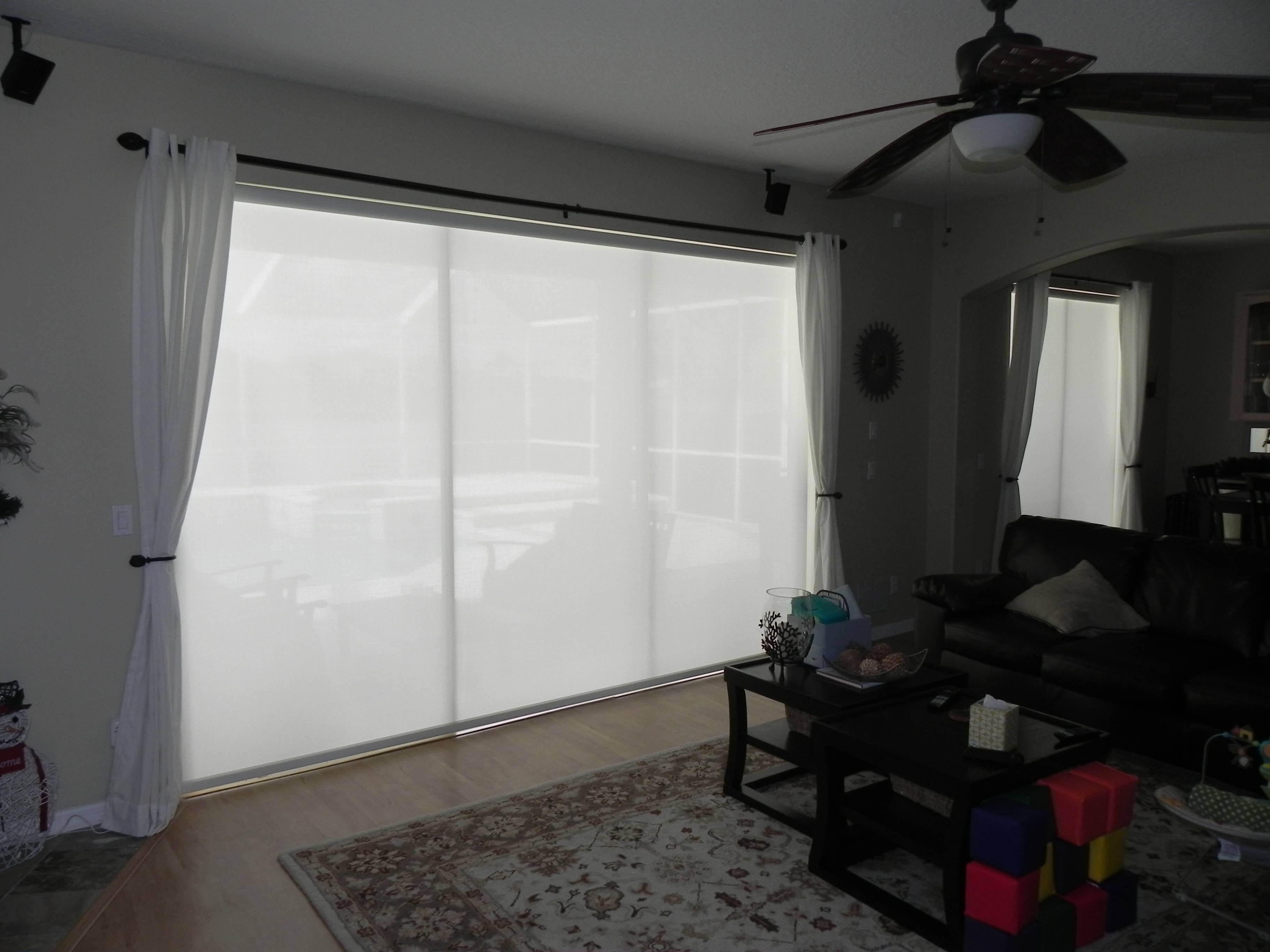 Wait… did you say roller shades? Don't they go up and down? Yes they do! Surely they're not a good option for a Sliding Door then? We used to feel the same way about the use of roller shades on sliding doors, but with the advancement in both Clutches and Motorization, more and more people want the seamless look of a roller shade to cut down on glare and heat, but still wish to be able to see through the material to maintain their view. Motorization has played a large role in the increase in popularity of Roller Shades on doors, due to the ease of pressing a button, and walking out the door.

Draperies
Draperies truly are a timeless classic. Custom Draperies can be fabricated to fit any home's decor. Their simple functionality make them one of the most ideal alternatives to Vertical Blinds. With a variety of different styles, such as Grommet Draperies, Ring-Top Draperies, Ripple-Fold, and Traditional Traversing Draperies, you can design something to match your home's decor perfectly.
So Which One Should I Choose?
All of the options above will create a truly beautiful look for you sliding glass doors! Each has their own unique style and appeal, and will fit each home differently. I hope that we have given you some ideas as to what you can use as a Vertical Blind Alternative for your Doors, but if you have any questions at all about these or any other window treatment options, please don't hesitate to Contact Us or if you live in Orlando, Kissimmee, or anywhere in Central Florida, Schedule a Free Consultation to go over all of your options in detail.