Exterior Wood Shutters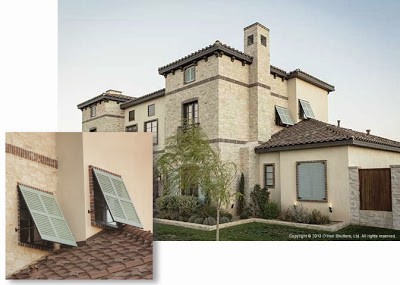 Custom Exterior Shutters from O'Hair Shutters
Offering a superior window treatment option to homes and businesses, O'Hair Exteriors provide a high quality combination of beauty, strength and unmatched weather resistance. O'Hair Exteriors are crafted from American hardwood, and are treated with an innovative and exclusive thermal process that provides unbeatable protection from extreme temperatures, insects and humidity.
High quality exterior shutters are an investment in the value and beauty of your home or business. Whether you are looking for exterior shutters that are ideal for standard window applications, or you are interested in updating the appearance of your outdoor kitchen environment or living space, O'Hair Exteriors offer the long term durability and style to meet your needs.
Made in America
The timber used for O'Hair Exteriors is harvested from family-owned land in America, from owners who are committed to responsible conservation and sustainable forestry practices. Competing products are often yielded from Third World sources with limited documentation, rendering serious concerns about the long term sustainability of the harvesting techniques. Imported products also vary in their quality and appearance. The wood used often comes from many locations with differing climates, and the porosity, texture and appearance within a single set of shutters can contrast greatly. With O'Hair Exteriors, however, you can always count on consistent quality and superiority.
This is because O'Hair is dedicated to ethically manufacturing a superior product. While competitors cut corners by offering exterior shutters that are produced in a mass production outlet at overseas facilities, have spent weeks on a boat and are stored in warehouses, O'Hair Exteriors are constructed from sustainably harvested American hardwood. They are assembled in America by experienced and highly-trained American craftsmen. Each custom designed shutter meets the highest quality standards, ensuring beauty and durability that will last for decades to come.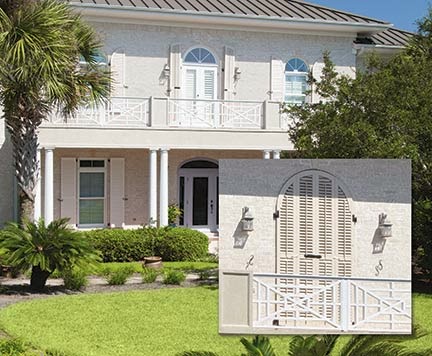 Crafted from Genuine American Hardwood
Because hardwood offers performance and durability that is superior to hollow and cellular vinyls, composites and co-extrusions in strength-to-weight ratio, aesthetics, dimensional stability and natural insulation, O'Hair Exteriors are crafted exclusively from genuine hardwood. They are the only thermally modified hardwood exterior shutter on the market. Crafted from white poplar, a hardwood that is beautiful, plentiful and sustainable, O'Hair Exteriors are treated with a state-of-the-art process that expertly prepares, mills and finishes the wood. The exterior shutters are coated with a color matching aluminum cap and weather strip, providing outstanding resistance to the damage caused by the stresses of an outdoor environment.
Unparalleled Quality
O'Hair Exteriors offer unequaled resistance to environmental stressors, including extreme heat and cold, humidity and insect damage. With the perfect combination of traditional joinery and technology-optimized precision, these shutter products offer a range of features rarely seen in competing exterior shutters.
O'Hair Exteriors are treated with a patented, specially developed heat treatment process, which leaves the wood completely unchangeable. This extensive process was developed over a long period of testing and refinement, and serves to solidify the hardwood's internal oils and to shrink the pores, making it completely resistant to water and humidity. In addition to this, the process eliminates anything that would attract insects, eliminating the concern of pest damage. The heat treatment process offers twice the weather resistance and protection as other high-end competitors.
To ensure the quality and durability of O'Hair Exteriors, the shutters have been subjected to a variety of tests. Formal test in laboratory settings simulate the extreme temperatures, harsh conditions and aging that the shutters will endure. The shutters have also been exposed to a variety of other tests, including having been submersed in water for a full week. After the week had ended, virtually no change in the integrity and appearance of the shutter was detected. Simply put, O'Hair Exteriors would endure a flood in far better condition than the home itself.
Featuring state-of-the-art design technology, O'Hair Exteriors are the first and only hardwood exterior shutters that are thermally treated. They also feature a highly durable screw-reinforced mortise and tenon joinery. This feature, which is standard in all O'Hair Exteriors, is rarely seen in competing products. The exteriors are also topped with an aluminum cap that matches the color of the shutters, a weather strip and heavy duty weatherproof assembly hardware. From top to bottom, O'Hair Exteriors offer everything necessary to provide outstanding resistance to the outdoors.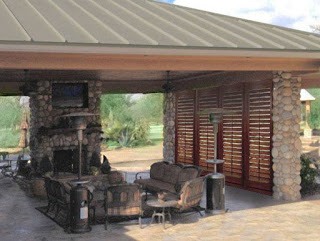 Features
Highly Durable and Weather Resistant
O'Hair Exteriors offer a variety of features that ensure lasting beauty and quality. The shutters provide superior weather resistance, due to their high temperature modification. They are the toughest hardwood exterior shutter on the market and are completely insect proof and resilient against harsh weather and extreme temperatures.
Mortise and Tenon Joinery
Unlike competing shutters of inferior design and quality, O'Hair Exteriors offer mortise and tenon joinery, providing a maximum glue surface area. They feature weather treated draw-tight fasteners and excellent joint strength. Their design utilizes type 1 melamine glue, which provides a high-grade bond. They are also constructed with #304 stainless steel staples, which are resistant to corrosion and water damage, and #5052 aluminum linkage and top cap to ensure maximum durability.
Naturally Strong
O'Hair Exteriors feature durable hardwood to provide natural strength. The shutters are extremely rigid and resistant to change. With a strength-to-weight ratio that is superior to any competing product, O'Hair Exteriors are the strongest panels on the market.
Unsurpassed Beauty
O'Hair Exteriors offer unmatched beauty and visible quality. The shutters are weatherproof and completely refinishable, featuring KemAqua BPEnamel painted finishes. Shutters with a stained finish feature an oil-rubbed natural kiln finish.
Because the thermoset process greatly reduces the porosity of the wood, the shutters are highly resistant to traditional stains. O'Hair uses Cutek Extreme oil which, when combined with the heat process-darkened wood, gives the finished product a beautiful, medium brown tone.
An Environmentally-Friendly Option
The curing process used in manufacturing O'Hair Exteriors is completely emissions-free. They are USDA Bio-Preferred, a distinction given to products that are derived from renewable forestry materials and provide an environmentally-friendly alternative to conventional petroleum derived products. The unused hardwood is recycled to ensure minimal wood waste, and they offer twice the life span of other wood exteriors, ensuring less waste in the future.
O'Hair utilizes an innovative milling process, which generates minimal waste, and their finishes ensure the lowest environmental footprint possible. Not only do O'Hair Exteriors offer beauty and durability that lasts for generations, but they are environmentally responsible.
A Wide Range of Sizes and Colors
O'Hair Exteriors are available in a wide range of designs and configurations. They are offered in both fixed and adjustable configurations, as well as raised panel designs, in louver sizes of 1.5″, 2″, 3″, 4″ and 5″. Individual panels are offered in sizes as small as 9″ by 12″, or as large as 133″ by 50″.
O'Hair Exteriors are also compatible with a wide range of hardware and mounting options. All rectangular panels can be purchased in the top-hinged Bahama style design. The shutters are offered in a full spectrum of lasting painted finishes, which can be customized to fit your needs.

Warranty
Because O'Hair is confident in the quality and long lasting durability of their exterior shutters, they provide an outstanding warranty. If defects are found in the shutters within seven years of their installation by an authorized dealer, O'Hair Shutters, Ltd. will arrange for the repair or replacement of the defective features at no cost to the customer. If the product design has undergone changes, the replacements will be made utilizing the newer design.
O'Hair Exterior Shutters: Superior Quality and Unmatched Performance
Long respected for their committed to providing the quality and performance that homeowners expect, O'Hair offers products that consistently out-perform competitors. High-quality exterior shutters are a long term investment in the appearance and value of your home, and O'Hair Exteriors are guaranteed to provide beauty and outstanding performance for generations to come.
Contact Us Today to start your next Exterior Project
Have a question about Exterior Shutters, or need to schedule a Free Estimate? Give us a call at 407-847-5777 or contact us using the form to your right. We would love to introduce ourselves and help you design the perfect Outdoor Shutters for your home.